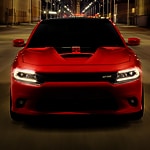 Mid-size sedans are some of the best-selling automobiles of the automobile industry. The popular Dodge Charger is no exception to the rule as this sedan has truly taken over the game. All of the major components that car enthusiasts could ever want can be found with this model. The new Charger offers multiple powertrains, will come in a variety of colors and easy on the eyes.
Thanks to being a four-door vehicle, this car can seat five individuals. Consumers can expect a good amount of legroom, especially for the second-row seats. To quickly ignite the engine, all you have to do is utilize the Push Button Start. The vehicle's driver display is 7.0-inches in size, and it provides valuable information while commuting. The Dodge Charger goes on to offer roadside assistance via SiriusXM Guardian, which is an app.
This only scratches the surface, so speak with our reps by visiting our dealership as soon as possible.