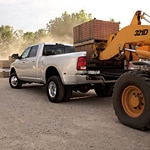 When you need power and performance in a heavy-duty pickup truck, the Ram 3500 is the first and only name that should come to mind. We here at Tri Star Motors are pleased to be the local suppliers for this popular truck brand, and we invite you to our showroom in Somerset, PA to take one out on a road test today.
You won't be disappointed when you see the Ram 3500's impressive statistics. With the right engine and transmission combination, the Ram 3500 is capable of coming up with more than 400 horsepower and up to 1000 pound-feet of torque. This means that it can tow almost 18 tons with ease.
Engine choices include two different six-cylinder Cummins diesel engines and a gas-powered eight-cylinder HEMI. Corresponding transmission options consist of a six-speed Aisin model and an eight-speed style as well.